Thinking About Reupholstering?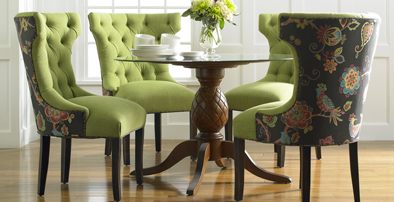 I recently completed an upholstery job on 8 dining room chairs. The new fabric we used added more color to the room, changed the style from traditional to transitional and made such a big difference overall. Reupholstering a piece of furniture does all that plus helps coordinate the décor of a room. A dated, tired chair gets a whole new life when it wears a fresh, new fabric.
You need to read the fiber information on any fabric you choose. One nice thing about my fabrics is that they are also rated for double rubs – a wear test that determines durability and wear.  The higher the number of double rubs, the stronger the fabric. I want you to know that number so you can make a wise fabric selection for your furniture.
Also, if you want a very soft feel to your upholstery when you sit in it, use fabrics that are high in natural fiber content, such as cotton. They are nice but do tend to wear out a little quicker than man-made fibers such as polyester and olefin. They may last longer but do not have the nice feel to the fabrics. Weigh the options and make an informed choice.
My next project is to recover my ottoman in a black and white herringbone fabric. What about you?